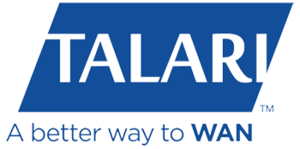 Talari Networks, the trusted SD-WAN technology and market leader, engineers the internet and branch for maximum business impact by designing fail-safe WANs that deliver superior business-critical application reliability and resiliency, while unlocking the simplification and cost reduction benefits of branch consolidation.
Talari Networks was founded in 2007 and launched its initial beta product in early 2008. Since then, the company's patented products have been deployed in 40 countries and is approaching over 4,000 locations around the world.
Incorporating years of innovation into five generations of product, Talari delivers a comprehensive, proven SD-WAN solution, supporting a variety of network services in physical, virtual and cloud locations, which can be acquired through perpetual licensing or monthly subscription rates.
Talari has received numerous industry awards and accolades over the years but the biggest award is the trust and ongoing business we continue to receive from customers in all industry segments.
Talari is headquartered in San Jose, California with R&D in Raleigh, North Carolina and sales offices across the United States and Europe.
Talari Products and Services