Cogent is one of the world's largest Internet Service Providers, delivering high quality Internet, Ethernet and Colocation services to more than 46,200 Enterprise and NetCentric customer connections. Cogent serves 190 markets in 38 countries across its facilities-based, all-optical IP network.
Cogent stands out from competitors by offering dedicated connectivity, fiber-based Ethernet technology, and reliable service backed by local customer support centers and an industry leading Service Level Agreement (SLA).
The Cogent network is connected to more than 2,125 buildings, including 1,450 office buildings and more than 750 data centers.
Cogent bandwidth is symmetrical, with our most popular product being 100 / 100 Mbps. A port on the network is reserved just for you so you'll never experience slow times during peak traffic hours.
Our IP only, simple product set ensures a low cost of operations and we pass that savings on to our customers. It also allows for a shorter provisioning cycle, with our On-Net SLA guaranteeing service in 17 business days or less.
Our Ethernet transport products include both Point-to-Point (VLAN-based Connectivity) and VPLS (Any-to-Any connectivity) options. Whether it's point-to-point, hub and spoke, or full mesh, take advantage of large capacity pipes and configure them to fit your WAN needs.
Cogent's global footprint allows you to transmit your most sensitive data across the globe or across the street.
Cogent Network Map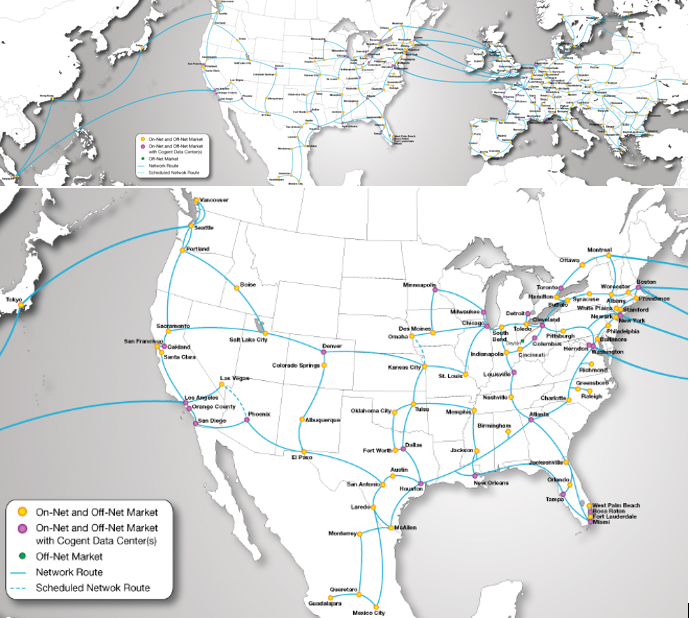 Cogent Products and Services