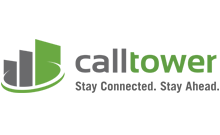 Since its inception in 2002, CallTower has built its service based on best-of-breed technologies from the leading providers in the communications industry, including Cisco® (Cisco Unified Communications Manager) and Microsoft® (Lync, Exchange Server, SharePoint and Dynamics), and integrating their voice offering through CallTower's proprietary vXML Voice Cube voice messaging platform. CallTower's entire offering is easily provisioned and maintained via CallTower Connect. With CallTower's On Demand Unified Communications Solution, smaller, growing businesses with multiple offices can achieve the benefits and class of service traditionally reserved for enterprises.
CallTower's On Demand Unified Communications solution provides growing companies with enterprise-class reliability on a global basis, a single point of support, productivity-enhancing features and 24/7 service for a fixed monthly fee. CallTower's On Demand Unified Communications Solution allows businesses to:
Create virtual teams and work together. Their presence driven unified communications makes it easier to connect and collaborate from anywhere.
Empower mobile workforce. CallTower provides users with intuitive tools and applications so that they can work from anywhere, become more efficient and get more done.
Reduce capital and operating costs. Because their services are hosted or on-demand, you pay on a monthly basis without any initial investment cost. With their bundled solution you also save on your monthly conferencing charges and phone bills.
Focus on revenue-impacting initiatives. CallTower manages the technology, upgrades and security of the entire unified communications solution so you can focus on your other strategic projects.
Simplify vendor management. Instead of managing several services from different vendors, CallTower provides one intuitive interface for all communications services.
CallTower Products and Services