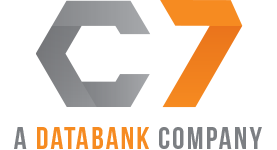 C7 Data Centers, Inc. is a privately-held organization that has been in business since 2000.
In January of 2007, a new management team was brought in to focus the resources of the company. Since that time, the entire organization has been restructured and is now the Intermountain area's leader in data center solutions. Originally, C7 Data Centers was known as Center 7, Inc. But with the acquisition of TierFour Data Centers, Center 7, Inc. changed its name to C7 Data Centers to more closely reflect the company's true mission and identity of being an operator/provider of multiple data centers and associated services.
In January of 2017, DataBank, Ltd. signed a definitive agreement to acquire C7 Data Centers.
The C7 Experience
C7′s four data centers total more than 127,000 square feet of floor space and the company is researching additional acquisition and expansion opportunities.
With a disaster safe location and the nation's lowest power rates, C7 Data Centers offers a very popular disaster recovery solution. C7 also offers a robust colocation, data backup and virtual server cloud environment. Companies typically do business with C7 because of their low prices, geographic location, excellent customer service and selection of high quality service offerings.
C7 Products and Services